Sick of the same old lunches and dinners every week? Check out this blog to get some fresh ideas for your meal prep with recipes that will bring you from Monday right up to the weekend, we've even included a home made pizza for when your hand starts wandering towards that take away menu…. 
Thai Red Curry 
With the weather forecast looking very damp and gloomy for the coming week, this recipe is the perfect solution. Add rice to the mix and you should get 3-4 servings out of this meaning you'll have enough to pop into your lunchbox for the following day too! Sorted!
Ingredients
2 stalks lemongrass
1 fresh red chilli
2 cloves garlic
bunch coriander
2 red peppers in oil (you can get these in a jar)
1 heaped tsp tomato puree
1 tbs fish sauce
2 tbs soy sauce
1 tsp sesame oil
2cm piece fresh ginger
8 large unpeeled raw tiger prawns
200 sugar-snap peas
220g small cooked prawns
1 tub of Chilli Cool Beans
1 400g tin coconut milk
Method
1 Put everything except the prawns, coconut milk, Cool Beans and peas into a food processor and give it a good whizz. This is your curry paste.
2 Heat some oil in a pan and fry the tiger prawns for about a minute. Then add a tablespoon of the curry paste and fry for another minute. Tip all this into a dish and put in a 200C oven for 8-10 minutes.
3 Put your prawn pan back on the heat with more oil. Add the peas and the small prawns. Tip over the rest of the curry paste and stir round for a minute or two then add the coconut milk and tub of Cool Beans. Stir and leave to simmer on a low to medium heat for 10 minutes.
You serve the prawns on the side with some lime wedges and rice and a finger bowl is useful, too.
Mozzarella and Rosemary Pizza
This recipe is key if you are trying to get back to normality after a few weeks on holidays eating and drinking what ever you fancied. It takes a little more time than ordering from Dominos, but by the time the takeaway actually arrives you probably would have managed to make up this dough. Give it a whirl!
Ingredients
2 x 7g sachets dried yeast
1 tbsp golden caster sugar
4 tbsp extra virgin olive oil
500g strong bread flour or Italian '00' flour
1 tbsp fine sea salt
FOR THE MOZZARELLA AND ROSEMARY TOPPING
2 Pots of Smokey Cool Beans
2 balls of mozzarella cheese
Freshly ground black pepper
2 rosemary sprigs
Olive oil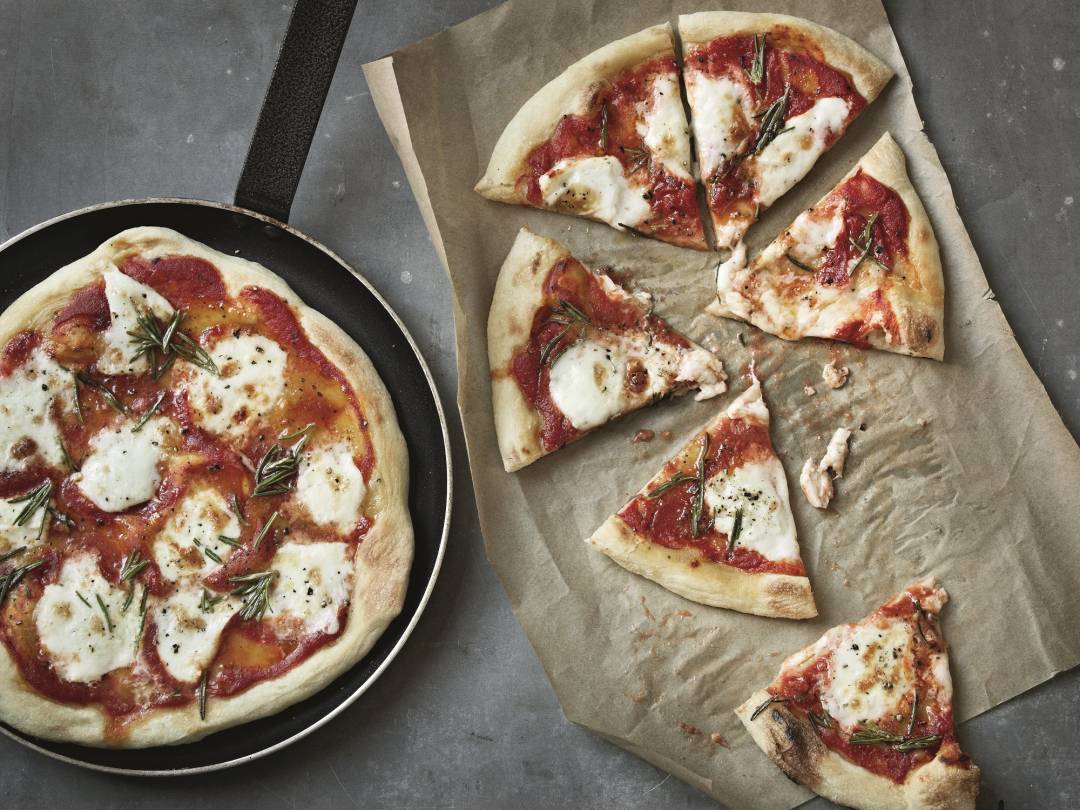 Method
Mix together the yeast and sugar with 325ml warm water and leave for a couple of minutes. Meanwhile, sift the flour into a mixing bowl, add the salt and make a well in the middle. Pour the oil into the well, followed by the yeast mix. Using a spoon, bring the flour into the middle from the sides, mixing slowly, bit by bit, until a dough begins to form.

When combined, tip the dough onto a floured work surface and knead for 10 minutes until smooth. Cover with a tea towel and leave to rise in a warm place for about 1 hour until doubled in size.

When the dough is risen punch out the air and tip onto a floured work surface. Knead the dough for 1–2 minutes to push out any excess air, then wrap in cling film and chill if not using immediately.

When you're ready to make the pizzas, divide the dough into 4 equal balls and keep them covered. Put a large (26cm) grillproof frying pan on the heat and roll out one ball of dough on a floured work surface with a floured rolling pin until it's the same size as your pan. Pour a little olive oil into the pan and add the pizza base, pressing it down. Cook over a medium heat for 5–8 minutes until the base crisps

Spread half a pot of Cool Beans over each pizza base. Tear the mozzarella balls in half, then tear one half into 4 pieces and dot them over the base. Season with pepper and scatter over a few rosemary leaves. Remove from the pan and set aside.

Drizzle the pizzas with a little olive oil before placing under a preheated grill. Cook for about 4 minutes until the topping is golden and bubbling and the dough along the edges is nice and crisp.

Serve warm, cut into slices, and drizzle with extra olive oil with a couple of extra rosemary sprigs sprinkled on top.
Lemon Chicken Stir-Fry with noodles
This recipe is really perfect for this time of year. It is light and zesty and really filling… Another lunchbox filler!
Ingredients
Finely grated zest and juice of ½ lemon
1 tbsp chopped fresh coriander
2 small cloves garlic, crushed
Freshly ground black pepper, to taste
175g (6oz) skinless, boneless chicken breasts, cut into strips
1 tbsp sesame seeds
2 tsp sesame oil
1 cm (½ in) piece fresh root ginger, peeled and finely chopped
100g (3 1/2oz) dried medium egg noodles
1 carrot, cut into matchsticks
1 small leek. washed and thinly sliced
100g (3 ½oz) mangetout, trimmed
55g (2oz) bean sprouts
2-4 tbsp chicken or vegetable stock
tbsp dry sherry or unsweetened apple juice
2-3 tsp reduced-sodium soy sauce, or to taste
To make this Lemon Chicken recipe, combine lemon zest and juice, coriander, half the garlic and the black pepper in a non-metallic dish.

Add chicken; turn to coat. Cover and refrigerate for 1 hour.

In a non-stick wok over a medium-high heat dry-fry sesame seeds until toasted; set aside.

Add oil to wok; stir-fry ginger and remaining garlic for 30 seconds. Add chicken and marinade; stir-fry for 3-4 minutes. Meanwhile, cook noodles according to packet instructions; drain well and keep hot.

Add carrot and leek to wok; stir-fry for 1-2 minutes. Add remaining vegetables; stir-fry for 2-3 minutes or until chicken is cooked. Add stock. sherry and soy sauce; stir-fry for 1 minute. Add hot noodles and sesame seeds; toss and serve.
The most difficult thing about all these recipes is going to the supermarket and buying all the ingredients. Give yourself plenty of time to prep all the ingredients and the cooking takes care of itself.